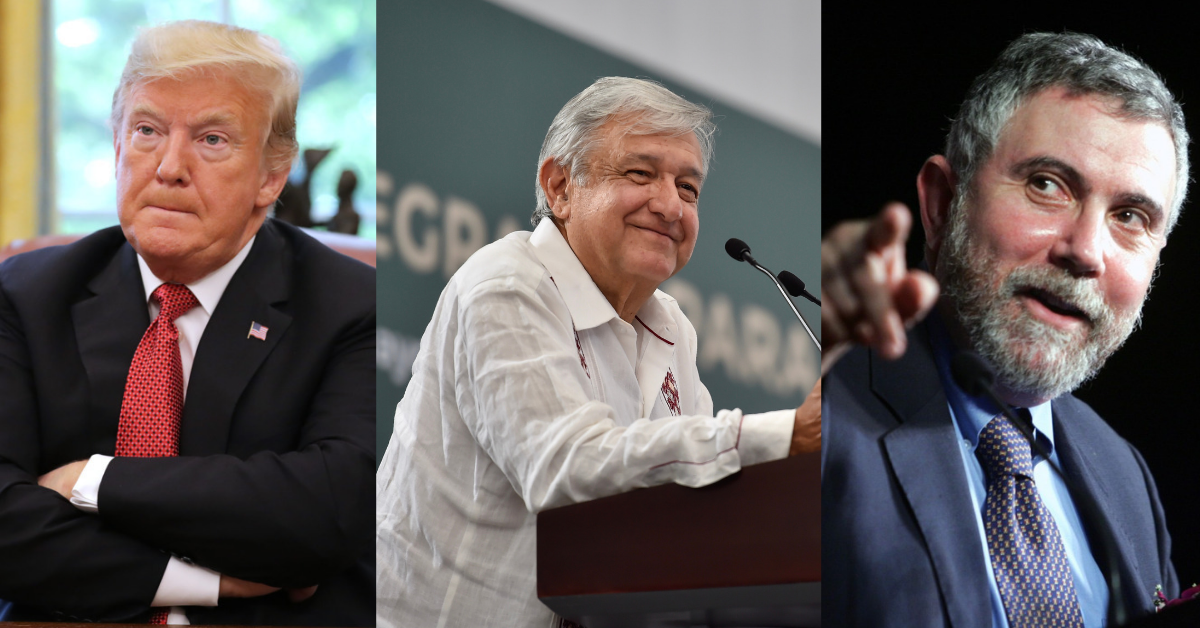 El economista estadounidense, Premio Nobel y también Premio Príncipe de Asturias, Paul Krugman, evidenció que el acuerdo con México que presumió Donald Trump como una victoria estadounidense, en realidad no logró mucho para Estados Unidos y sólo fue una bravata del mandatario norteamericano.
Todo comenzó cuando Trump escribió en Twitter el siguiente mensaje:
"¡México ha acordado comenzar a comprar de forma inmediata grandes cantidades de productos agrícolas de nuestros grandes agricultores patriota!"

Donald J. Trump✔@realDonaldTrump
MEXICO HAS AGREED TO IMMEDIATELY BEGIN BUYING LARGE QUANTITIES OF AGRICULTURAL PRODUCT FROM OUR GREAT PATRIOT FARMERS!170 mil19:03 – 8 jun. 2019Información y privacidad de Twitter Ads60,6 mil personas están hablando de esto
(Cabe resaltar que dicho tuit fue manejado por varios usuarios mexicanos como la evidencia del "fracaso" de Andrés Manuel López Obrador en el acuerdo con Estados Unidos)
Para el premio Nobel Paul Krugman, el tuit de Trump tiene información errónea, y en realidad lo que demuestra es que quien salió más victorioso en el acuerdo fue México.
Puso Krugman citando el tuit de Trump:
"Traducción: recibí tan poco a cambio de todas mis amenazas que tengo que inventar victorias imaginarias (no hubo trato en productos agrícolas)"Ver imagen en Twitter


Translation: I got so little in return for all my threats that I have to make up imaginary victories (there was no deal on agricultural products)6.40122:29 – 8 jun. 20192.724 personas están hablando de estoInformación y privacidad de Twitter Ads
Según fuentes (consultadas por El Financiero) que estuvieron involucradas en las negociaciones del acuerdo entre México y Estados Unidos, no se habló en ningún momento del tema de compra de productos agrícolas estadounidenses por parte de nuestro país. Ni siquiera se planteó.
El Premio Nobel Paul Krugman afirmó en otro tuit que el enfrentamiento entre México y Estados Unidos terminó como acuerdos de libre comercio ya existentesentre ambas naciones, y que en realidad Estados Unidos cedía, pero fingía que "ganaba".
Por lo que puedo decir, el enfrentamiento con México ha finalizado, por ahora, más o menos como NAFTA / USMCA: Trump sopló y resopló, los negocios de EE. UU. lograron transmitir el mensaje de que una guerra comercial sería un desastre y, básicamente, Trump cedió mientras fingía que ganaba.

As far as I can tell the Mexican standoff has ended, for now, pretty much along the lines of NAFTA/USMCA: Trump huffed and puffed, US business managed to convey the message that a trade war would be a disaster, and he basically caved while pretending that he won23,3 mil19:42 – 8 jun. 2019Información y privacidad de Twitter Ads8.383 personas están hablando de esto
Comparte